RAJASTHAN & WILDLIFE
Duration : 11 Days

(October - May)



Delhi - Udaipur - Ranakpur - Rohet - Jodhpur - Jaipur - Fatehpur Sikri - Agra - Delhi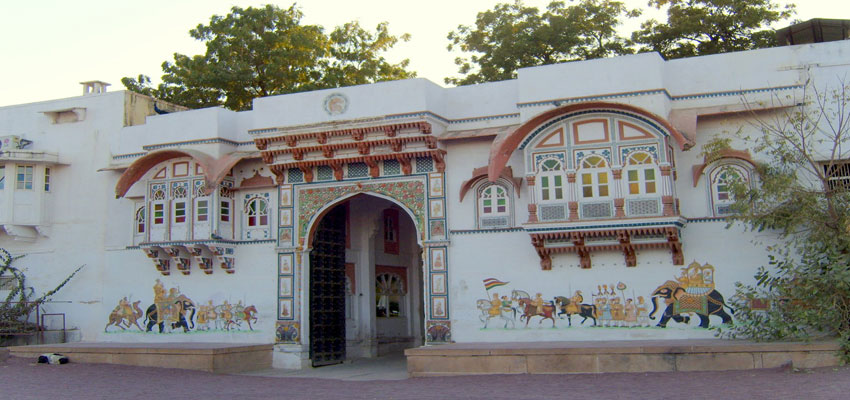 Day 01 : Delhi
Arrive Delhi in the evening. Transfer to Hotel by private vehicle. The capital of modern India, Delhi is a bustling metropolis which successfully combines in its fold the ancient & the modern. Its strategic location was one of the prime reasons why successive dynasties chose it as their seat of power. New Delhi also reflects the legacy the British left behind. The division between New & Old Delhi is the distinction between the capitals of the British & the Moghuls respectively. So, wherever the visitor goes, he will invariably confront the city's past.
Day 02 : Delhi
After breakfast, full day city tour of Delhi. Visit Jama Masjid, the largest mosque in India ; the massive 17th century Red Fort ; walk through the colourful bazaars of Chandni Chowk. Rajghat, memorial of Mahatma Gandhi. Drive past India Gate - a war memorial, President's House & the Parliament. Visit the UNESCO Word Heritage Sites : Humayuns Tomb : built in mid 16th century this is an early example of Mughal architecture ; Qutub Minar, at 120 meters, is the tallest brick minaret in the world. The tour ends with a visit to Laxmi Narayan Temple.
Day 03 : Delhi - Udaipur (Flight : 6E-746 : 0825 - 0940 hrs.)
Morning, transfer to the airport to board flight for Udaipur. Arrive Udaipur, transfer to prebooked Hotel.

After breakfast, visit the romantic city of Udaipur. Visit the City Palace which is the largest palace complex in Rajasthan; Jagdish temple, a fine Indo Aryan temple built in 1651; Sahelion ki Bari or Garden of the Maids of Honour, which is a small garden with its fountains, kiosks, marble elephants & lotus pool.
In the evening, boat ride on Lake Pichola.
Day 04 : Udaipur - Ranakpur - Rohet (275 kms., 6 hrs. drive)
Morning, leave for Rohet, enroute visit the Jain temples at Ranakpur : The cluster of temples, made of intricately sculpted white marble, come across as a marvellousfeat of architecture. It would take anyone by surprise to learn that they were built in 1460, so well preserved & sparkling is the marble. The main temple is supported on 1,444 pillars none of which is similarly carved.

After the visit, continue drive to Rohet, the fortified desert home of the descendants of the 16th century Rathore of the Champawat clan, Thakur Dalpat Singh I. The "Jagir" (Fiefdom) of Rohet was bestowed upon him in 1622 A.D. by the Maharaja Of Jodhpur, as a mark of appreciation for his bravery in battle. Generations of valiant noble-men have built this heritage home where, notwithstanding the inroads of modernity, aristocratic values are respected. The visitor of today experiences the famed warmth of courteous Rajput hospitality. Brilliantly plumed peacocks strut about, perching themselves under finely carved stone archways and the wind whispers through the neem tree groves and bougainvilleas. Within these time weathered walls lies an oasis of landscaped gardens and flowers in bloom - your Oasis in the arid land of Marwar. Arrive Rohet and check-in at Hotel Rohetgarh.
Day 05 : Rohet - Jodhpur (40 kms., 1 hrs. drive)
Morning at leisure to explore the village.
Afternoon, drive to Jodhpur. Arrive Jodhpur and check-in at prebooked hotel.
Day 06 : Jodhpur - Jaipur (225 kms., 5 hrs. drive)
Morning, sightseeing of Jodhpur. Visit the Mehrangarh Fort which literally means "Majestic Fort", located at the very centre of the city. There are, in all, three gates, each built to commemorate a particular victory, as well as to reinforce the fort. It has a collection of musical instruments, palanquins, furniture & cannons on the forts ramparts are well preserved. Jaswant Thada : Close to the fort complex lies this white marble cenotaph, built in 1899, in commemoration of Maharaja Jaswant Singh II. Rare portraits of Jodhpur's rulers are, also, to be seen at Jaswant Thada.

Afternoon, drive to Jaipur, the capital city of the state of Rajasthan also know as "Pink City" owes its name, its foundation and planning to the great warrior astronomer Maharaja Jai Singh II. The city of Jaipur has broad avenues. The city sits on a dry lake bed in a wild and somewhat arid landscape, surrounded by barren hills surmounted by fortresses and crenellated walls. Upon arrival, check-in at prebooked Hotel.
Day 07 : Jaipur
After breakfast, excursion to Amber Fort enroute witness the façade of Hawa Mahal or the Palace of Winds which was built in 1799. Amber Fort, the ancient capital of the state until 1727 when Jai Singh decided to move from his hillside fortress at Amber to new site on the plains. The construction of this fort began in 1592 by Raja Man Singh, the Rajput commander of Akbar's army. The fort is a superb example of Rajput architecture, stunningly situated on a hillside and overlooking a lake which reflects its terraces and ramparts. Visit the Jagmandir or the hall of victory glittering with mirrors, Jal Mahal & temple of Kali. Ascend on elephant back, the hill, on which the fort is situated.

Afternoon, city tour of Jaipur. Visit the Jantar Mantar, the observatory built by Jai Singh in 1728; the City Palace which is a blend of Rajasthani and Mughal architecture. It also has a museum with an extensive collection of art, carpets, paintings, enamel ware and weapons dating back to the 15th century.
Day 08 : Jaipur - Ranthambore (175 kms., 4 hrs. drive)
After breakfast leave for Ranthambore, located at the junction of the Aravalli and Vindhya hill range, this is one of the finest places to view animals, especially as they are used to being stared at here. The park covers an area of Approximately 400 sq Km and if combined it with the area of sawai man singh sanctuary area,it is around 500 Sq km. Ranthambore national park was declared a wildlife sanctuary in 1957 and in 1974 it gained the protection of "Project Tiger". It got it's status of a National Park in 1981. Ranthambore National Park is dotted with structures that remind you of bygone eras. There are many water bodies located all over the park, which provide perfect relief during the extremely hot summer months for the forest inhabitants. A huge fort, after which the park is named, towers over the park atop a hill. There are many ruins of bygone eras scattered all over the jungle, which give it a unique, wonderful and mixed flavour of nature, history and wildlife. Tigers at Ranthambore National park have been known to even hunt in full view of human visitors. These tigers are famous for being seen in the daytime too, due to their lack of fear of human presence in vehicles. This lack of fear of humans is excellent for tourists, as they get to see the tigers often. This National park is a wildlife enthusiast and photographer's dream. The park remains open every year from October to May. In Nutshell, Ranthambore National park is a wildlife enthusiast and photographer's dream. Arrive Ranthambore and check-in at prebooked hotel. Rest of the day at leisure.
Day 09 : Ranthambore
Morning and afternoon, Jungle Safari to witness the wild life. The Park contains a huge variety of animals, birds and reptiles within it. Primarily the population consists of... Animals : Tigers, Leopards, Striped Hyenas, Sambar deer, Chital, Nilgai, Common or Hanuman langurs, Macaques, Jackals, Jungle cats, Caracals, Sloth bears, Black bucks, Rufoustailed Hare, Indian Wild Boar, Chinkara, Common Palm Civets or Toddy cat, Coomon Yellow Bats, Desert Cats, Fivestriped Palm Squirels, Indian False Vampires, Indian Flying Foxes, Indian Foxes, Indian Gerbilles, Indian Mole Rats, Indian Porcupines, Longeared Hedgehogs, Ratels, Small Indian Mongoose, Small Indian Civets and Common mongoose. The amphibian species only consist of the Common India Toad and the Common Frog. The park is most famous for it's diurnal tigers. The park also has a large number of marsh crocs Reptiles: Snub Nosed Marsh Crocodiles, Desert Monitor Lizards, Tortoise, Banded Kraits, Cobras, Common Kraits, Ganga Soft Shelled Turtles, Indian Pythons, North Indian Flap Shelled Turtles, Rat Snakes, Russel's Vipers, Saw-scaled Vipers and the Indian Chamaeleon
Day 10 : Ranthambore - Bharatpur (Train) - Fatehpur Sikri - Agra (55 kms, 01 hrs.)
Early morning, transfer to the railway station to board Jan Shatabdi Express scheduled to depart at 0710 hrs. for Bharatpur. (Train does not operate on Sunday). Arrive Bharatpur at 0925 hrs. and visit the Keoladeo Ghana Bird Sanctuary or-as many people prefer to call it-the Bharatpur Bird Sanctuary. Bharatpur hosts a variety of bird species from across the globe. Close to 380 species of birds are found in this 29 sq km stretch, approximately 10 sq km of which comprises of marshes and bogs. Rest of the area comprises of scrublands, grasslands and more than 44,000 trees that are used for nesting by birds each year. This rather intriguing blend of marshes, woodland and flora found here represents and, at the same time, substantiates the density and diversity of the region's forest cover.
After the visit, drive to Agra enroute visit the abandoned Mughal city of Fatehpur Sikri : built by Emperor Akbar in 1569, was the old capital of the Mughals, which was abandoned after 15 years due to scarcity of water. See the graceful buildings including the Jama Masjid, Tomb of Salim Chisti, Panch Mahal & other Palaces which are still preserved in its original glory.
Continue drive to Agra. Upon arrival, check-in at prebooked hotel.
Day 11 : Agra - Delhi (203 kms, 04 hrs.)
Morning, sightseeing of Agra. Visit the highlight of the day, The Taj Mahal, which was constructed by Shah Jahan in memory of his wife Mumtaz Mahal. Construction of the Taj began in 1631 and was not completed until 1653.

Visit the impressive Agra Fort, which was built by Emperor Akbar in 1565, and additions were made up until the time of his grandson, Shah Jahan. It contains the hall of public and private audiences amongst many other beautiful structures.

Afternoon, drive to Delhi. Upon arrival, transfer to the airport to board your onward/return flight.